How can I help?
Currently, in Indonesia, it costs US$80 to restore sight in one eye, or US$100 per eye for a complete event, following is the cost breakdown: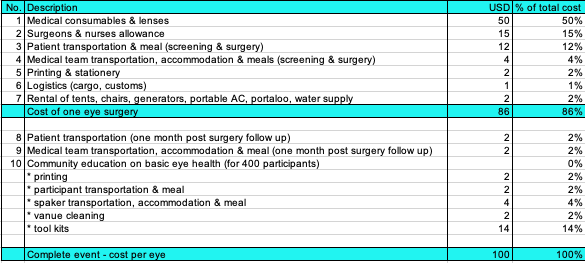 Note to the cost breakdown table above:
This general cost breakdown is for a single event where the number of surgeries is over 500 (for economy of scale).
Cost may vary from time to time and by location, due to:
* foreign exchange fluctuation on expenses denominated in Indonesian Rupiah, Singapore dollar and US dollar.
* location of event, the more remote the location the higher cargo, transportation & other logistic costs
There are no management costs burdened on donation income, these costs are funded by our co-founders.
100% of all donations go directly towards restoring sight, training medical personnel or purchasing the necessary equipment.
We are 100% reliant on donations. Our donors come from all walks of life and include, corporate and individual sponsors, families, friends and ourselves. No donation is too small and all assistance is deeply appreciated by our patients.
Donation can be made online https://www.anewvision.org/donate/ or by
* transfer to:
Bank: UOB
Bank Code: 7375
Branch Code: 057
Swift Code: UOVBSGSG
Account name: A New Vision Limited
Account (SGD) 374-305-008-6
        (USD) 374-901-546-0

* cheque to:
A New Vision Limited
c/o Bashan Capital Pte Ltd
12 Marina View #11-01
Asia Square Tower 2
Singapore 018961

How can you be sure that only poor patients are treated for free?
We only operate on patients whose cataracts have limited their sight to 6/36 or below. No one with sufficient financial resources would have willingly allowed themselves to live with this visual disability.
How do I know my donation is utilized properly?
As we are currently funded on a "per project basis", all donations can be traced to each project including detailed itemised costs. Our most recent financial report is available for our donors and potential donors upon request. Please write to we@anewvision.org.
Our accounts are prepared by:
Indigo Nombres Pte Ltd (Singapore)

and are audited by:
VKR PRACTICES
Chartered Accountants of Singapore
101 Cecil Street, #11-10 Tong Eng Building
Singapore 069533

Is my donation tax deductible?
A New Vision was registered in 2011 as a public company limited by guarantee in Singapore with registration number 201112891E.
As the majority of our beneficiaries reside outside Singapore, we do not qualify for registration as a Singapore charity. Therefore, donations to us do not attract tax exemptions on income drawn in Singapore.
How does what A New Vision (ANV) align with "VISION2020 The Right to Sight"?
A New Vision is a member of International Agency for the Prevention of Blindness an alliance of civil society organisations, corporates and professional bodies promoting eye health through advocacy, knowledge and partnerships.
The ethos of A New Vision is one which builds partnerships with key stakeholders across the regions in which it operates. Through these partnerships, local community members are trained, equipped and motivated to recognize and address instances of curable blindness. In isolation, the clinics conducted by Dr. Ruit and his staff bring immeasurable gains to hundreds of visually impaired people. But more than this, the clinics spark interest, create awareness and motivate the public to take action and come up with sustainable solutions for the future. Information is power.
What is a sustainable solution?
Dr. Ruit, like his mentor – the late Professor Fred Hollows, believes firmly that his most important role is to train and equip local health resources to help multiply their work, adopting a safe, high quality, high volume, low cost method. This is possible as a direct result of the surgical method pioneered by Dr. Ruit and Prof. Hollows.
Our goal is to replicate the sustainable Community Eye Hospital model which Dr. Ruit demonstrated to be so successful in reducing the rate of blindness in Nepal, particularly in communities where there is evidence of higher need.
Please write to us at we@anewvision.org if you wish to know more about this model and plan which we are working on.